86 Renegade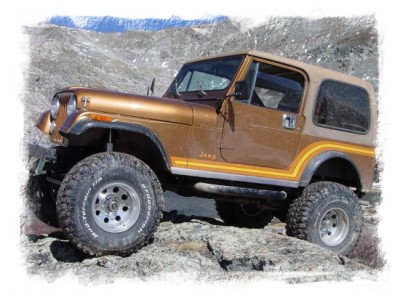 This is the 6th CJ-7 I've owned. After selling the second to last CJ (83 CJ-7) to get money for a wedding, I had Jeep withdraws. Shortly after the wedding, and after buying a new house with my wife, I had to have a Jeep again. I decided this time around, I want an '86 for it is the last of the CJs. Also half of them had factory Dana 44 rears. After looking for 6 months, I came across a respectable white 82 CJ-7. It had a full floater Dana 44 rear, Howell Injected 258, NV4500 and Lock-Rites F&R. I was tempted to buy it, but it wasn't an '86. The seller was moving to Texas, and he had to sell it. He was asking for more than what I was willing to spend... but because it had a NV4500 and D44 rear, I was tempted. After thinking a while, I decided not to buy it. The owner was leaving the next day, with no buyers. He really dropped his price to less than what I was willing to spend. So, I toyed with him and offered him even less. To my amazement, he took my offer. So, I owned a white 82 CJ-7. I owned it for a few months... wheeled it, washed it, liked it. It still wasn't an '86, so I didn't love it.

A friend of mine moved to Colorado from Florida and loved my Jeep. I offered to sell it to him. He took my ride. He is now the proud owner of an 82 CJ-7 Laredo and swapped a '95 LT-1 in. My quest for the "perfect" Jeep continued. I expanded my searches to Kansas, Utah, Wyoming and New Mexico.
To make a long story short, I have been seeing this ad in www.TraderOnline.com for more than a month. It listed an 86 CJ-7, had no picture, very brief description, but did say it had a rear Dana 44. After looking and looking with no luck, I decided to e-mail the person selling it for a picture and more information. Turns out it was a Renegade model, owned by a woman, rarely off-roaded, bone stock, had cruise control, hard top, soft top, bikini top. She send me pictures and I was pretty hooked. She did mention it leaked and ran like shit (not exactly that, but I sensed it from her). I didn't mind, since I was going to swap the engine out, and get 4.10's and lockers (new seals too). So, within a couple days, my wife and I decided to do an 8 hour drive to (near) Albuquerque, New Mexico and check it out.

My first impression was, I didn't like the color. However, she cleaned it so well, I was impressed. She was a lady-turned biker, and probably needed money to pay for her new Harley. Half of me didn't want it, but the price was about right, and it was rust free, and better than most rust buckets I have seen, asking for a thou or two more. I decided to bite the bullet and buy it.

We arrived home the next day (drove down Friday afternoon, got there at night, saw the Jeep Saturday morning, bought it, towed it home and arrived home Saturday night).
I decided to get a good sleep before looking it over Sunday morning. The more I looked at it, the more I liked it. I never had a cruise control in a Jeep, and this was the nicest thing to have! Drives to the trails are now easy... just set the cruise and go.
The motor had to go! It ran like shit. Stalled at every stop, and took forever to start. But, I had to get it to run good to get emission passed (failed once). I decided to rebuild the carb as a first step. Uh-oh! As I was rebuilding the carb, there were a few pieces in the carb missing, and the linkage used to control the choke was made out of coat-hanger wire. After replacing the missing parts and getting a new linkage, I put it all back together and she started up the very first time! Oh woo! After setting the timing a little, she purred like a kitten! Even though she has 118,000 miles on her, I could have sworn it was a new motor. She has so much power and she does not die at stops anymore. I passed emissions with flying colors. I had so much power, that I decided to wait on the V-8 swap until the engine really needs to be replaced.
The following spring, I got a GM Dana 44 front and had it narrowed to CJ widetrack width. I got ARBs front and rear and 4.10's. Then my SOA project begun.
I've owned the Jeep for almost 4 years now, and think this is the best of the 6 Jeeps I've owned. I still plan on doing a Chevy 350 swap soon, maybe this winter (2003). I still think the color is not great, even though the paint is great and shiny, I will wait. When the right time comes, I might paint it red... as red as red can be, and paint the hardtop grey. But that's another write-up.