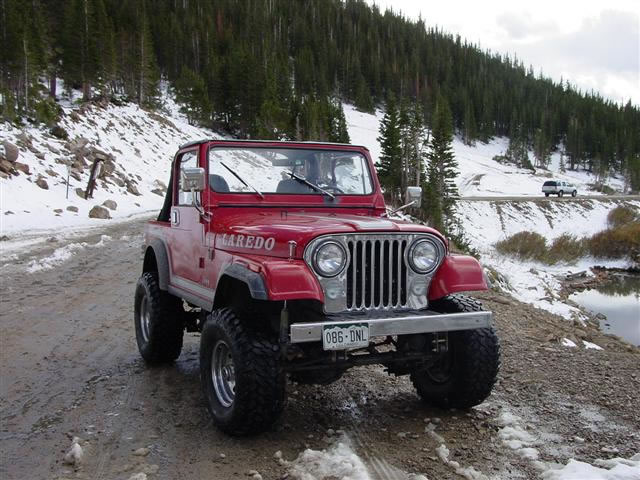 Last Updated Fall of 2006. I no longer own any Jeeps. :(
This is the 7th CJ-7 I've owned. This is pretty much the "Jeep I've been looking for all my life". It's a red, 1986 CJ-7 Laredo. If you followed my 86 Renegade story, you'd see that I wanted a Laredo, and it had to be red. I sold my '86 Renegade after I realize I was not four wheeling often enough. Some of my four wheeling buddies have decided that they have other priorities than four wheeling. So, I decided to post it for sale on TraderOnline.com. It was posted for sale for about 2 months before some guy in Oklahoma showed interest. We talked back and forth through e-mail. After a week or two, he decided to buy my Renegade. He showed up on time, and with a trailer. Took my ride! I admit, I kinda changed my mind when he was here, but I had to let go.
Update! I bought my '86 Renegade back! The guy I sold it to drove it for one year before he decided he needed a better highway vehicle. He tried to sell it on eBay, but didn't meet the reserve. We talked a little and I bought it back. Woo!
I was Jeepless again. After 2 months, I missed having a Jeep. Maybe I could find one that I will use as a daily driver if my other buddies didn't want to go four wheeling. I've looked here and there for a Jeep. Nothing serious. One day, I was browsing eBay, and saw the Jeep I've HAD to have! It was this '86 CJ-7 Laredo, pretty much stock, had a BDS 4" lift and 33" tires. It even had the factory Dana 44. After asking the seller what I thought was endless of questions. Satisfied with his answers, I decided to bid on it.
At the near end of the eBay auction, and a little bidding war, I won! I won! I couldn't believe I got what I've been looking for! After it sunk in, I start feeling stupid bidding on this Jeep. What if it wasn't what I wanted? Note - I have not even seen it in person! Aww heck. Luckily, I have this friend whose dad works for United Airlines. He was able to get me a couple of stand-by tickets to Dallas, Texas (where the Jeep was at). He got me a couple, just in case I see the Jeep in person and it was absolutely not what I thought it was.
I won the auction on Wednesday, and on Friday morning I flew out to Dallas and was greeted by this guy who was to take me to the Jeep. Arrived to the place where the Jeep was. First impression... it was not as nice as my 86 Renegade. But I could see, it had potential. A little washing, a little replacing, then I'd be happy. After pointing out a few flaws that the seller didn't mention, we agreed on a price a little less than the winning bid.
It was noon in Dallas, the Jeep was paid with cash, I got the title. Now for the long drive back home to Denver. Going north through Oklahoma, Kansas, and west on I-70 to Denver was a good ride! It gave me a chance to "bond" with the Jeep. No glitch. She ran very good! After I got home (10 hours later) I rested. Then I took a good look at the Jeep, washed it, played with it. Now I'm happy!
Fast forward to a month later. I saw an ad from some guy who wanted stock AMC 20 and Dana 30 axles for his CJ-5. He wanted to get rid of the Dana 44's F+R with Detroit Softlockers and 4.56s. He admitted he was stupid for doing that, but that was what he wanted. I thought there was a catch. But, I met up with him, we talked, and ended up swapping axles for a little cash plus my Dana 44 and Dana 30. Now, the Jeep stands with 4" BDS lift, Dana 44's F+R stuffed with 4.56's and Detroit SoftLockers.
Will this be the last Jeep I ever own? Probably not. I'm happy I finally found the "perfect" Jeep (in my eyes) - but since this is the 7th Jeep I've owned, I'm probably getting into this habit of buying them stock, modifying them, 'wheeling them, and then selling for a new project. Hopefully this one will last a good, long time!